About us
Dado Ceramica is a ceramics company that manufactures porcelain stoneware and double-fired tiles for both residential and commercial settings.
Founded in 1980 in San Matteo della Decima (Bologna), in the heart of the ceramic manufacturing district of the Emilia Romagna region, for the last 37 years the country has been evolving constantly in terms of both design and technology.
Traditionally known for its double-fired wall tiles, over the years the company has added a range of porcelain stoneware floor and wall tiles.
Dado Ceramica today manufactures a kaleidoscope of ceramic surfaces, in which colour engages with material, texture with decorations and sizes with graphics for a quality, stylish way to bring a personal touch to any setting.
The company's Italian style and craftsmanship has gained a foothold on all the main international markets, and has been a stable, distinctive presence on the Italian market since its foundation. Dado Ceramica leads the EcoDADO+Group in which it cooperates along with Antica Ceramica Rubiera and Cotto Petrus/Trial Ceramica.
---
Our history
| | |
| --- | --- |
| 1980 | Foundation of Dado Ceramica |
| 1989 | Creation of Dado Ceramica Group, with the acquisition of Antica Ceramica Rubiera |
| 1992 | In-house production of special trims for floors |
| 2000 | Conversion of single-fired tiles to glazed porcelain stoneware tiles |
| 2002 | Installation of optical sorting lines |
| 2005 | Production of large-size floor and wall tiles |
| 2011 | Introduction of octochrome HD digital technology |
| 2012 | Complete renovation of the Rubiera production plant: production of sizes up to 120 cm |
| 2013 | Start of production of 18 mm thickened tiles |
| 2014 | ISO 9001 certification obtained |
| 2015 | ISO 14001 certification obtained |
| 2016 | Production of sizes up to 163 cm |
| | UNI CEI ISO 50001:2011 certification obtained |
| | OHSAS 18001 certification obtained |
| 2017 | UNI EN ISO 14021:2016 (Labeling of recycled material) certification obtained |
| | Singapore Green Label |
| | Association to Gree Building Council Italia |
---
Certifications
Dado Ceramica S.r.l. has always believed that the quality service offered is the secret behind its successful performance on the market. The company therefore decided to implement a Quality Management System, with a view to continuing to improve customer satisfaction.
To this end, in July 2014, Dado Ceramica S.r.l. obtained certification from TUV Austria Cert GmbH, testifying to compliance of the company organization with the requisites set forth in the UNI EN ISO 9001 standard.
The company also implemented an Environmental Management System, and in 2015 obtained certification attesting to compliance with the requisites set forth in the ISO 14001 standard.
In 2016, compliance was also certified with the requisites set forth in the UNI CEI EN ISO 50001:2011 standard governing «Energy Management Systems", allowing Dado Ceramica S.r.l. to continue improving its energy performance, comprising both energy efficiency and the consumption and use of energy.
In 2016 we also obtained OH SAS 18001 certification, that deals with health and safety of workers, ensuring compliance with the requirements for the Management Systems of Health and Safety at Work.
In 2017 we obtained both UNI EN ISO 14021:2016 certification (labeling of recycled material) and Singapore Green Label certification.
In 2017 Dado Group became a member of Green Building Council Italia, an independent body whose objective is the promotion of a sustainable building culture and particularly the promotion of LEED (Leadership in Energy and Environmental Design) certification system.
Dado Group's product manufactured in the production plants of Rubiera and Roteglia contain at least 40% of recycled raw material, allowing their users to access LEED credits.
---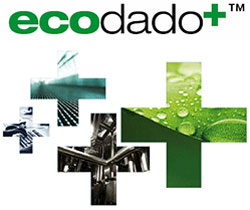 Ecodado+group
Our strengths
Dado Ceramica belongs to Ecodado+ group, an industrial and commercial partnership also comprising Antica Ceramica Rubiera and Cotto Petrus/Trial Ceramica.
CUSTOMER SERVICE: Relations with resellers and the sales network have always been based on genuine, effective cooperation, with a view to mutually enhancing value and opportunities for growth.
FULL HD DIGITAL TECHNOLOGY: There are no longer any limits to the possibilities offered for high-definition reproductions of graphics. Italian technological evolution goes hand in hand with creativity, style and design, thanks to innovation in the field of decoration. Digital technology allows for the creation of digital products able to provide perfect results, recognisable from the HD label.
ECOSUSTAINABILITY: From day one, the environment has been a priority for us, and this is why all our technologies and techniques, production cycle and corporate conduct model have been developed with a view to reducing environmental impact and to respecting and safeguarding nature. Ecodado+ group does not use harmful raw materials, and recovers and recycles all its production waste in order to produce high-quality, lasting materials. Digital technology also allows for a significant reduction in the consumption of raw materials and consumables.
ETHICAL CODE: The ethical code adopted by Ecodado+ group involves not only strict compliance with the law; it is founded on high standards of conduct. In order to maintain this serious approach and the integrity of the business, we undertake to provide clear, specific information on the quality of our products.
Facts and figures
3 production plants
1 central logistics centre