Dado Ceramica S.r.l.
Via Sicilia, 21 - 40017 San Matteo Decima (BO), Italy
Telefono Uffici: +39 051.6819611
Telefono Shop: +39 051.6819684
Fax: +39 051.6819650
E-mail: info@dadoceramica.it
---
Goods storage
Dado Ceramica has always placed great importance on the services offered to its commercial partners:
An efficient, effective logistics organisation, with products available in the warehouse.
Fast, punctual deliveries.
The "Frascari Adriano" central storage facility in Castellarano (Reggio Emilia), at the centre of the Ceramic District, where only EcoDadoGroup materials are held, thus guaranteeing extra-swift material loading times.
Continual availability of samples and merchandising tools, prepared by a dedicated in-house department, able to guarantee customers a swift service perfectly in line with their needs.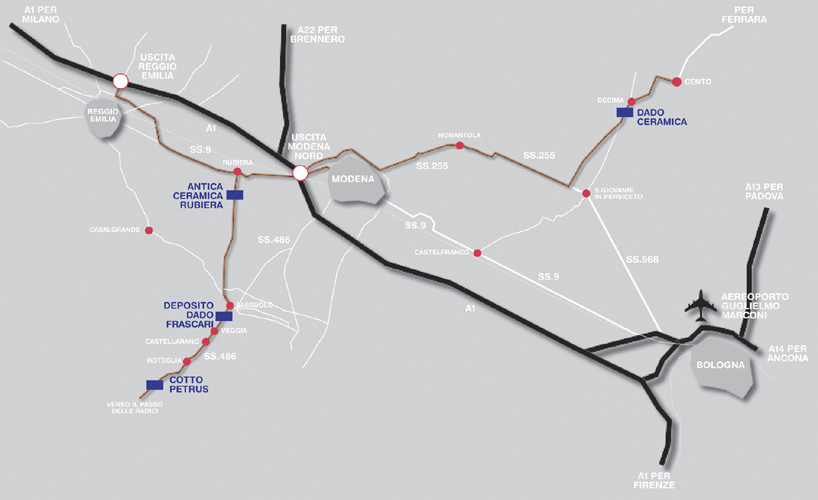 Frascari Adriano Storage Facility
Via Turati 84/86 (ex via Radici in piano 116)
Casalgrande - Reggio Emilia - I - Google Map
Phone: +39 0536.824747
Fax: +39 0536.990195
E-Mail: deposito@dadoceramica.it
Waiting times reduced to a minimum: trucks are promptly loaded, because the storage facility is reserved exclusively for Ecodado+ Group goods.
No warehousing costs for the products we take to our.
Contact Form
To contact the company please write to info@dadoceramica.it, or fill out the form below.